Exhibition at ORGATEC 2016 - Exploring the rolling workspace -
2016-10-17
OSAKA, Japan, October 17, 2016 KOKUYO Co., Ltd., (headquartered in Osaka; president and CEO: Hidekuni Kuroda) will exhibit at ORGATEC 2016 (International Trade Fair for Furnishing and Management of Offices and Office Facilities 2016) held in Cologne, Germany, from October 25-29, 2016.
Our booth will be filled with many circular objects under the key word "'WRITE' = Old but New Communication Workstyle."
In response to the increasing importance of real communication among workers in the office, we focus on the action of writing for enhancing the ideas and creativity of individuals and teams. KOKUYO suggests a new type of workspace with whiteboards as a key tool connecting stationery and furniture, which are both our business domains.
Just as in the previous ORGATEC 2014, our exhibition booth is designed by nendo, a design office led by Oki Sato, who is active in Japan and overseas. In the booth, circular whiteboards create various writing scenes that flexibly change and produce an innovative and attractive communication space that inspires the creativity of people who work inside.
We are seeking to take this opportunity to improve our recognition as a global brand of office furniture and to gear up our penetration into overseas markets in Asia and other parts of the world.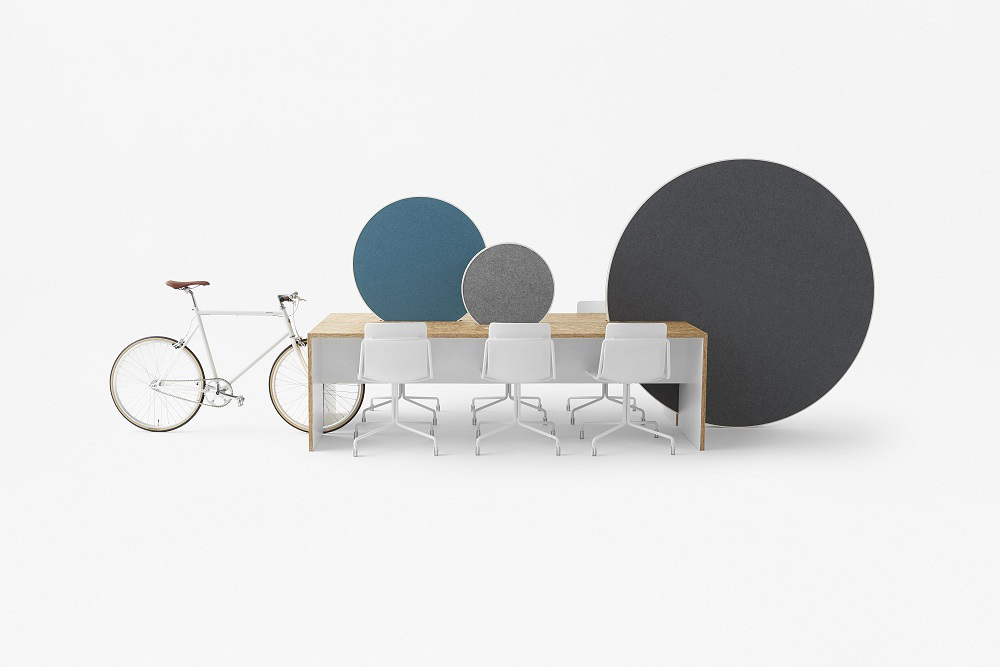 * ORGATEC:  URL http://www.koelnmesse.jp/orgatec/
An international trade fair for office furniture of the world's largest class that is held every other year in Cologne, Germany, with the participation of major companies in office-related equipment and instruments, lighting, audio, security, and other fields; the previous ORGATEC 2014 had exhibition by 624 companies from 41 countries and more than 50,000 visitors from 120 countries.
Overview of exhibition
1. Concept: "rolling workspace"
< "WRITE" = Old but New Communication Workstyle >
The act of writing has existed since long ago, while it is still one of the extremely important communication styles in modern offices.
In this exhibition, we suggest a workspace using whiteboards as the key, where creativity is enhanced through writing, and vigorous communication among workers is incited.

< Expansion of ideas and enhancement of creativity >
We transformed whiteboards into a circular shape, assuming that the reforming of square whiteboards installed in any offices could produce an environment where creativity is incited. We expect that, unlike the conventional linear whiteboards, circular white fields (plates) could help writing in a radial pattern, and ideas could be chained spirally. We supposed that, by simply making whiteboards in a round shape, the resulting communication and sharing could further expand and interconnect ideas, thereby offering a tool that inflates the creativity of workers.

< Dynamic workspace induces communication >
We expect that circular whiteboards can be freely rolled around in the office and leaned against the wall.
Desks, benches, and high counters that match these circular whiteboards were also designed with slits cut into them, enabling combinations with large and small boards, thereby configuring various writing communication spaces where ideas can be spirally chained. (These slits also enable whiteboards to easily fit in for use as partitions.)
The same idea was applied not only to furniture, but also to space. Whiteboards can also be used as stands that divide the room when fit into slits on the floor and as doors to private rooms and cabinets. Multiple whiteboards can be cleared away into many slits that are prepared on the walls.
These various slits can also be used as bicycle stands, and therefore it can be expected that workers bring their commutation bikes straight to their desks. Our aim is to achieve a dynamic workspace that encourages flexible mind movements incited by the frequent rotation of whiteboards.